Care worker Melissa Swift admits 'bleach' murder attempt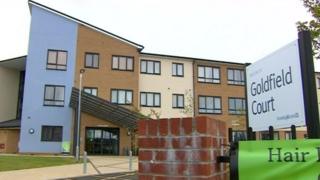 A care worker has admitted trying to murder three colleagues by adding bleach to drinks at a West Midlands care home.
Former special constable Melissa Swift was arrested after 25 residents and seven staff at Goldfield Court in West Bromwich were taken to hospital.
Swift, 23, from West Bromwich, admitted three charges of attempted murder and two counts of making threats to kill at Birmingham Crown Court.
She will be sentenced on 17 April.
'Reckless and alarming'
West Midlands Police said everyone at the home had access to the drinks and 32 people fell ill.
Swift, of Hambletts Road, who was previously based at Sandwell Police as a volunteer officer, added the bleach to bottles of drinks stored in a fridge in the staff room of Goldfield Court.
She also sent anonymous letters to two other members of staff threatening to kill them, including one to her older sister, Lulla Swift.
Adrian Keeling, prosecuting, said: "It's the case she intended to poison three of her colleagues at Goldfield Court, and made threats to kill on two other individuals."
Three of her colleagues drank the liquids and fell ill with food poisoning symptoms. The women sought medical treatment and recovered from their symptoms after a few days.
Policed seized more than 400 drink and food items from Goldfield Court, which were either sent to be tested at force laboratories or destroyed.
Det Ch Insp Michaela Kerr said they did not know what Swift's motive was.
The force confirmed she had previously served as a special constable with West Midlands Police.
"Melissa deceived her colleagues and hatched a plan to cause ill to those she worked with as a result of some malice, for which we have never truly discovered the cause," the detective said.
"She not only thought out a way of poisoning her workmates but also followed the plan through and administered bleach to their drinks, leaving them in the usual staff fridge where she knew they would go.
"The plan was dangerous, reckless and hugely alarming. There is nothing to have stopped anyone from consuming the drinks she tampered with and, given the nature of her profession and workplace as a care provider, she went against everything her dedicated colleagues worked for.
'She is evil'
"Elderly people in a supported care environment were put through a series of investigations by the police.
"Thankfully no-one was seriously injured as a result of what she did, but the story could so easily have been different."
Speaking to BBC News, Swift's sister Lulla said: "My sister deserves the consequences that she's going to face.
"She is evil and disturbing.
"The fact that my sister was a police officer is shocking and I cannot understand her motives. She threatened to kill me, sent a letter stained with her own blood.
"She threatened to cut my throat, cook and eat my body. The whole incident has been very disturbing and frightening".
Housing & Care 21, which runs Goldfield Court, said Melissa Swift's actions in August were "shocking and alarming".
"Our priority has been to offer support to our staff and residents at Goldfield Court," a spokesman said.
"It is a testament to the staff and residents that disruption to life at the court was kept to a minimum."