Six men jailed for HMP Oakwood riot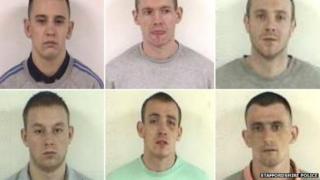 Six men have been jailed for their part in what was described as a "full scale riot" at England's largest prison.
The disorder erupted at privately-run HMP Oakwood, near Wolverhampton, last January and lasted for about 10 hours.
One prison officer told BBC News many inmates were involved and they took over an entire wing of the jail.
The six men all admitted violent disorder at Stafford Crown Court and were given sentences between 24 and 28 months.
The prison officer, who helped tackle the violence, told the BBC: "I would sum it up as a full-scale prison riot and we were very lucky that it only took place on one unit and didn't spread."
The trouble flared at the G4S-run prison about 17:00 GMT on Sunday 5 January when prisoners were in the process of being locked in their cells, Staffordshire Police said.
A limited number of prisoners damaged property; smashing windows, CCTV cameras, cell furnishings, pool tables and washing machines.
The cost of the damage and dealing with the disorder was estimated to be in excess of £170,000, the police spokesman added.
The prison was heavily criticised after a surprise inspection in 2013 but earlier this week inspectors said in a new report the jail had made "significant improvements".
The six men sentenced for the disorder were:
Daniel Rust, 23, from Sheerness, in Kent, and currently at HMP Dovegate - sentenced to 28 months, plus eight months for an unrelated assault at HMP Birmingham
Ryan Harris, 33, currently at HMP Dovegate - sentenced to 28 months
Matthew Williams, 27, currently at HMP Dovegate - sentenced to 24 months
Adam Bates, 24, from Sheffield - sentenced to 24 months
Mark Russell, 25, from Gwent - sentenced to 28 months
Daniel Donovan, 29, currently at HMP Hewell - sentenced to 28 months