Ahmad Nawaz 'played dead' in Pakistani school massacre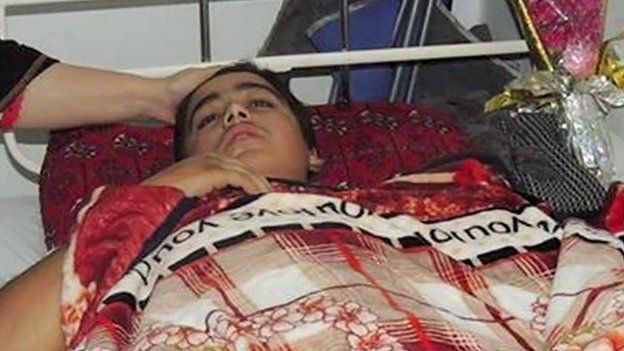 A boy seriously injured in the Pakistani school massacre "played dead" to survive while a gunman searched the room and stepped on him, his mother has revealed.
Ahmad Nawaz, 14, who was shot in the arm, has undergone surgery at the Queen Elizabeth Hospital in Birmingham.
His brother Haris was killed in the Taliban attack.
The boys' mother, Samina Nawaz, said Ahmad "has nightmares of Kalashnikovs and the Taliban chasing him."
She said: "He told me that the Taliban returned to the room where he was hiding. He pretended to be dead as he had already been bleeding.
"He said the gunman stepped on him with his heavy boot. Then he fired some more and set the room on fire but he escaped."
Taliban gunmen scaled the walls of the school's compound before going on a shooting spree, killing 141 children and staff, in one of the worst assaults in the country's recent history.
Ahmad's father Mohammad said he found the teenager "lying on a hospital bed covered in blood".
Mrs Nawaz said: "I didn't know what to do. My husband was screaming. It was hard to believe we were getting ready to bury one of our sons.
"For the first month Ahmad was in agony. He screamed all night and he still can't sleep."
The Pakistani government agreed to pay for Ahmad's medical treatment in Birmingham after a high-profile campaign in Pakistan. The teenager was flown into UK a week ago.
The Nawazs' younger son, Umar, had not been at school at the time and said he is too scared to go back: "I'm worried. I'm scared of the Taliban. I'm scared they will kill us."
Following surgery on Saturday afternoon, the hospital said the operation "went to plan" and that Ahmad was now "comfortable and stable".
Pakistani schoolgirl Malala Yousafzai was treated at the same hospital after being shot by the Taliban in 2012.