Six-foot high rubbish pile in Birmingham 'is being cleared'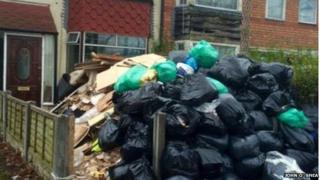 A 6ft (1.8m) high rubbish pile outside a Birmingham home is being cleared, a council has said.
The pile, outside a property on Olton Boulevard, Acocks Green, has been there for "at least" two weeks, according to Labour city councillor John O'Shea.
Mr O'Shea said the landlord of the property had been told he had seven days to remove the waste.
The council said the pile was down to waist height and the owner was on course to clear it by Thursday.
Mr O' Shea said he was alerted to the pile, which he said measured approximately 8ft x 14ft (2.4m x 4.2m), by residents.
He said the heap of rubbish, which was originally builders' waste, had grown after other residents had dumped black bags of waste on it.
"We have evidence to suggest these bags came from other local properties," he said.
"It was a minority of people but unfortunately rubbish breeds rubbish."
He said the landlord had taken action following a visit by Birmingham City Council's environmental health team.
"People were worried about the rats - understandably," he said.
"How would you feel walking out of your house to see this kind of thing? It's unsightly."