Birmingham's German Market sees 'record number' of visitors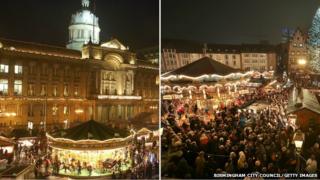 A record number of visitors came to Birmingham during the six weeks the city's Christmas German Market was open, latest figures have shown.
About 5.5 million visitors contributed towards the £397m spent, nearly double the £201m generated in 2012, Visit Birmingham said.
Visitor numbers have risen by 28% over the same period since 2012, the spokesman said.
The 180-stall market is the largest in Europe.
It is centred around Victoria Square and the council house and the 2015 market will be the 15th annual event.
Councillor Ian Ward, deputy leader of the city council, said: "Our extensive festive programme has drawn visitors from across the UK and Europe, all of whom have enjoyed the city's retail and events offer, as well as the famous Birmingham welcome.
"The positive figures form an excellent base for 2015, which is set to be one of Birmingham's most exciting periods in over a decade."
---
Birmingham's German Market
Employs about 1,000 staff, from stall workers to specialist electricians.
Covers almost 30,000 sq m, more than four full-sized football pitches.
Has 180 stalls, including the craft market.
Home to a singing moose, which has its own Twitter account.