Gas Street Basin leak 'caused by hole in canal bed'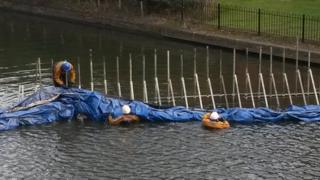 A leak in a canal in Birmingham was caused by a hole in the bed of the waterway, engineers have said.
A 200m (650ft) stretch around the Gas Street Basin has been drained for specialists to investigate water seeping from an aqueduct into a disused railway tunnel.
The operation had to be delayed several times over the past two weeks due to a faulty seal on a safety gate.
The route has been closed to boats while the work takes place.
Lawrence Tall from the Canal and River Trust said: "It's still early days but it is likely we will have to repair part of the canal bed.
"This will be a big job and will involve using specialist machinery to remove the old canal bed, lay down a new clay lining which, once in place, will reinstate a watertight seal along the aqueduct."
He said the stretch between Gas Street Basin and the Mailbox would reopen to boaters by Easter.
Fish from the affected section have been moved to a different part of the canal.
---
About the canal
The Worcester and Birmingham Canal opened between Birmingham in 1795. The connection to Worcester was completed in 1815
Gas Street Basin was once a busy transport hub
However, from 1841 railway competition took away much of the business
The canal-side was redeveloped in the 1990s and is now popular with tourists