Northfield woman 'devastated' after car hits new home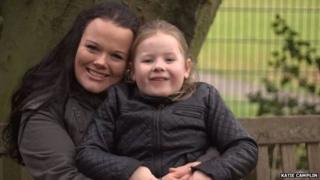 A mother says she is "absolutely devastated" after a car crashed into her living room less than 24 hours after she moved in.
Katie Camplin, 32, of Birmingham, said her seven-year-old daughter, Faye, had been at the window only a minute before the vehicle came through it.
A man was arrested on suspicion of drink-driving after Saturday morning's crash in Frogmill Road, Northfield.
Kier Homes, which owns the building, said a claim was being processed.
Ms Camplin said the crash, which happened at about 08:30 GMT, was "just terrifying". At the time, her partner, who is disabled, was in bed.
"My little girl removed a box of books from under the windowsill literally, and I'm not exaggerating, a minute prior to the car coming in. Thankfully she's still with us," she said.
"I was in the kitchen just trying to make breakfast for everybody and I heard this almighty noise that none of us can actually erase from our minds. It was piercing.
"Luckily I got everything insured on the Friday."
Her daughter Faye said: "I started screaming sitting on the top of my bed and then my mum told me to get dressed ready to go out.
"I couldn't do it quicker because we thought the car was going to explode."
Ms Camplin said she had been staying with her parents since the crash and thought it would take some time to repair the Frogmill Road house.
In a statement, Kier Homes said: "Following temporary arrangements put into place by West Midlands Fire Service, (we) assisted by ensuring the property was structurally secure without compromising the building insurance cover.
"Balaam Wood Management Company and the building insurers are now processing the claim and repairs, and we will support them in this in any way we can."