Birmingham Gas Street canal basin set to reopen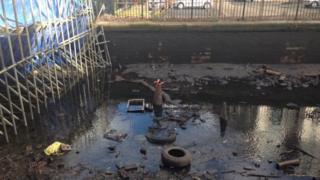 A canal in Birmingham is set to reopen after repairs to stop a leak.
A 200m (650ft) section around the Gas Street basin was closed last month after water was found to be draining into a disused railway tunnel.
Attempts to drain the canal were hampered by a faulty seal, while initial repairs failed to stop the leak, the Canal and River Trust said.
The organisation said work over the weekend had been successful and the basin was expected to open on Thursday.
That is several weeks ahead of schedule.
Fish were rescued from the basin last month and after draining it, engineers discovered a hole in the bed of the waterway last week.
After early attempts to repair it failed to stem the leak, engineers replaced a larger section of the bed over the weekend, before refilling it, the Canal and River Trust said.
The route was closed to boats while work was carried out.
---
About the canal
The Worcester and Birmingham Canal opened between Birmingham and Selly Oak in 1795. The connection to Worcester was completed in 1815
Gas Street Basin was once a busy transport hub
However, from 1841 railway competition took away much of the business
The canalside was redeveloped in the 1990s and is now popular with tourists
---