New Cross Hospital death of woman 'partly due to neglect'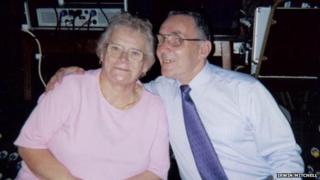 The death of a 74-year-old woman whose oxygen ran out while she was at a Wolverhampton hospital was partly due to neglect, a coroner has ruled.
Hilda Seagrave was admitted to New Cross Hospital on 25 June 2011 after suffering a serious fall at home.
Coroner Zafar Siddique ruled her oxygen cylinder became depleted overnight and recorded a narrative verdict, saying neglect contributed to her death.
The hospital said it accepted the coroner's findings.
'Inadequate systems'
The inquest at Smethwick Council House, which concluded on Wednesday, heard Mrs Seagrave had been on oxygen therapy prior to her admission, as a result of a clotting disorder affecting her lungs.
Mr Siddique said: "She was diagnosed with central-cord syndrome.
"On the balance of probability the oxygen cylinder had become depleted around 06:00 GMT on 26 June.
"There were failures in monitoring of the oxygen levels."
He said the lack of oxygen was a "causative factor" in Mrs Seagrave's death.
"There were inadequate systems in place to monitor and escalate findings of deterioration in patients with central cord syndrome at the time," Mr Siddique said.
"Taken together as a whole, her death was contributed to by neglect."
Law firm Irwin Mitchell said although the Royal Wolverhampton NHS Trust had made no formal admission of liability, the family had accepted a £50,000 settlement.
Speaking after the inquest, Sue Seagrave, Hilda's daughter, said: "The loss of our mother has been devastating for our family.
"We have been left utterly distressed by losing her so suddenly because of the appalling care she received from staff at the hospital.
"To discover after she had passed away that her oxygen supply had run out during the night and not replaced is simply unacceptable.
"I hope that after what happened to my mother, all staff at the hospital receive all the training they need to ensure that these mistakes can never happen again."
Dr Jonathan Odum, the trust's medical director, said they accepted the coroner's findings and offered "sincere condolences" to Mrs Seagrave's family.
"The trust has a policy for the use of oxygen and a process is in place to ensure that when oxygen cylinders are used, they are monitored," he said.
"As far as possible, all clinical areas operated by the trust now have piped oxygen supplies to reduce the need for oxygen cylinder use and improve safety"
"The trust is aware of the staffing issues on the ward at the time of Mrs Seagrave's death and steps have been taken to address them."