Hereford Hospital corridor cardiac arrest investigated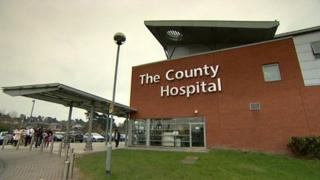 A patient had a cardiac arrest after waiting an hour and a half in a hospital corridor, an investigation will hear.
The patient survived but needed emergency treatment at Hereford County Hospital as their health deteriorated.
Patients in corridors are monitored by paramedics and hospital staff until they can be transferred to A&E, Wye Valley NHS Trust said.
The hospital said the incident happened "at times of extreme pressure".
'Sudden deterioration'
Last week non-emergency surgery was postponed because of high demand at A&E and a sickness outbreak.
The hospital declared an "internal incident" after beds were closed because of vomiting and diarrhoea on inpatient wards.
Trust management said they are speaking to the patient who had the cardiac arrest, and the patient's family.
"We can confirm that we are reviewing the care and treatment of a patient who was nursed within the reception corridor of the emergency department and experienced a sudden deterioration in condition requiring emergency treatment.
"The issue has been classified as a serious incident requiring investigation.
"These reviews are not uncommon, but routine in nature as they are carried out whenever the trust needs to understand if the treatment provided could have been improved."