Baby dies in Stechford 'after truck hits wall'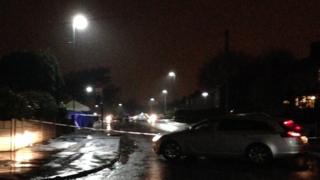 A one-year-old boy was killed when a recovery truck reportedly hit a wall which then fell on top of him, police have said.
The child suffered a fatal head injury and was pronounced dead at the scene in the Stechford area of Birmingham.
West Midlands Police said Queens Road was likely to be shut for a considerable time on Monday, but it reopened just before midnight.
Insp Paul Bennett said it was "a very tragic set of circumstances".
"Words cannot describe what his family are going through and our thoughts are with them at this time," he said.
Specialist officers will be supporting the boy's family, he added.
West Midlands Ambulance Service (WMAS) said it was called to the road just after 16:55 GMT.
A spokesman said various vehicles, including an air ambulance, were sent to the scene.
"Ambulance staff carried out advanced life support but sadly nothing could be done to save him and he was confirmed dead at the scene by the doctor," he said.
Police said the road had been closed between Sedgemere Road and Broadstone Road.
Anyone with information about what happened should call police on 101.