Solihull Sixth Form College taught wrong A-level syllabus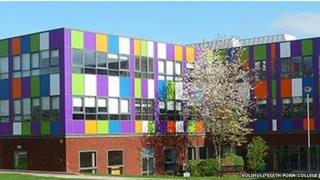 A sixth form college in the West Midlands has apologised after students were taught the wrong A-level syllabus.
Solihull Sixth Form College said one unit on its health and social care course had not met the requirement the students needed for their final grade.
It has now replaced the coursework unit, which is worth 15% of the final grade, with another which it is trying to teach before the deadline in June.
Principal Paul Ashdown said he was sorry for "any stress caused".
'Angry and upset'
Mr Ashdown said the health and social care team had chosen a set of units which did not "meet the requirements to get the final accreditation".
He said 36 students were affected.
"They are angry and upset and so are their parents," he said. "They are worried they may not get the grade they hoped for.
"We have to deliver that section of the course between now and the exams in June.
"The college takes full responsibility for this mistake and is very sorry for any stress caused to students."
Mr Ashdown said the college would be putting on extra lessons in term time and the Easter holidays to help the students complete the course.
"We will be teaching them until the last minute," he said. "We will also write to their universities and employers to accept responsibility for any slippage in their grades."
Writing on the Solihull Updates Facebook page, Sharon Franklin said: "My daughter is one of the students affected. There is added pressure on them as they have exams in other subjects but at least the college are doing their best to help those affected."
In January, the college said students sitting exams would have to be accompanied to the toilet during loo breaks after attempts to cheat last year.