Crowne Plaza hotel in Birmingham evacuated over blaze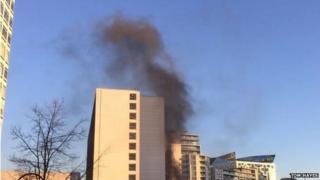 Guests at a city centre hotel in Birmingham had to be evacuated on Tuesday after a fire was discovered at a nearby demolition site.
The Crowne Plaza Hotel, on Holliday Street, was evacuated because of "heavy smoke" coming from a blaze at an adjacent site where the former Central TV Studios are being demolished.
The fire service said it was called to the site at around 19:07 BST.
The blaze was contained at 21:30, it said.
Michael Mason, the general manager of the hotel, said around 80 people had been evacuated and had been outside for around an hour.
"Our fire alarms sounded due to the smoke," he said. "It turned out the smoke was external to the hotel and had come through open windows.
"The guests appreciated their safety was our priority and we worked closely with the fire brigade."