Black Country University Technical College closure 'a sad day'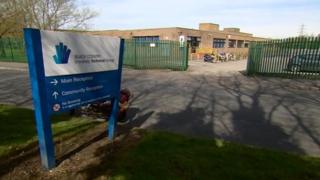 The closure of a flagship technical college is "a sad day for business education", a chamber of commerce said.
Black Country University Technical College (BCUTC), which is independently managed, will close on 31 August.
Governors blamed "disappointing" inspections and low pupil numbers.
Black Country Chamber of Commerce said something is "seriously amiss" if students cannot be found when firms are "crying out" for young people with technical skills.
'Equal to university'
President Martin Dudley said: "Engineering skills are in short supply so this news is a bitter blow for students, parents and employers.
"We have been advocating for some time that we need young people to see engineering apprenticeships as a career opportunity that is equal to a university degree."
BCUTC was the second University Technical College set up in England, after the JCB Academy in Staffordshire.
It opened in September 2011 with support from Wolverhampton University, Walsall Council and local employers.
University Technical Colleges are government funded schools offering technical and scientific courses for 14-19 year olds, developed in conjunction with employers and universities.
BCUTC's trust and Walsall Council is working with the government to ensure "minimum disruption" for 158 students.