Birmingham New Street station: 31 escalators need repairs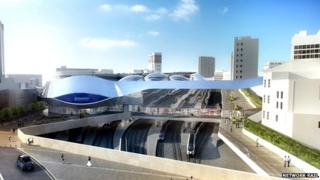 More than 30 escalators at Birmingham New Street station need to be repaired, rail bosses have said.
Fifty four new escalators have been installed as part of a £650m renovation of the city's main railway station.
Network rail said a "major component" of 31 machines was failing and two were out of action.
Independent users group Rail Future said the situation was "idiotic". Network Rail said the manufacturer was paying for the repairs.
The redevelopment of the station is due to be completed in September.
The work will also see the shopping centre above the station refurbished.
Named Grand Central, it will feature about 40 shops, including a flagship John Lewis store and 20 restaurants.
Rachel Groves, from Network Rail, said it was "doing everything" it could to fix the escalator faults as soon as possible.
In a statement, Stannah, who supplied and installed the escalators, said there had been a "manufacturing issue with the step chains".
"The manufacturer is replacing the chains free of charge and we are working on a programme with Network Rail and Mace to replace them.
"We are expecting to complete this work by the first week of July," it said.