Body found at Armoury Road recycling site in Birmingham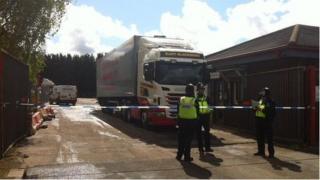 A man's body has been discovered by workers at a recycling plant in Birmingham.
The body was found at a site in Armoury Road in Sparkhill at about 10:00 BST.
Workers originally thought it was a tailor's dummy but then saw tattoos on the arms and realised it was a body and called police, the BBC has been told.
The site has been cordoned off and forensic officers are investigating the circumstances surrounding the death, police said.
'Operations suspended'
The man may have been dead for several days "at least", West Midlands Police said.
"A post-mortem examination will be carried out to determine the cause of death," the force said.
Robert Smyth, a construction worker who was at the site when the body was found, said: "We thought at first it was a tailor's dummy and then we saw tattoos on the arms.
"It was found by the conveyor belt where the rubbish is recycled."
The site is operated by Veolia.
The company said: "We can confirm operations have been suspended whilst the police carry out their investigation."