Birmingham man jailed over child porn and pepper spray imports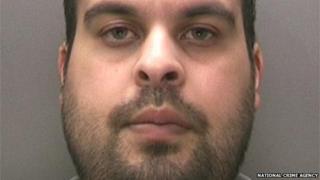 A man has been jailed for downloading indecent images of children and importing pepper spray for resale.
Ikram Shah, 27, from Cherrywood Road in Bordsley Green, Birmingham, sold the weapons disguised as cigarette lighters and lipsticks.
The National Crime Agency (NCA) said around 40 images of girls aged between four and nine-years-old were also found on his phone.
He was jailed for two years at Birmingham Crown Court.
The NCA originally raided Shah's home as part of their investigation into 300 pepper sprays he had imported from China.
'Dark net'
Dawn Cartwright, of the NCA, said: "Our investigation identified that Shah was using the internet for despicable purposes - firstly using the dark web to download horrific child abuse images involving very young children.
"But he was also brazenly selling dangerous weapons disguised as innocuous items like lipsticks and cigarette lighters on the open internet."
Shah was charged with making indecent images of children and possessing and porting prohibited weapons.
He will remain on the sex offenders register for seven years.