Birmingham City's Carson Yeung loses money-laundering appeal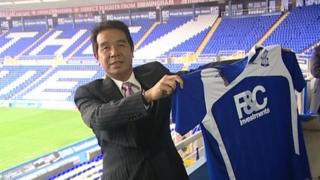 Carson Yeung, the former chairman of Birmingham City, has lost an appeal against his conviction for money laundering.
He was jailed for six years in March 2014 after a court in Hong Kong heard HK$720m (£55m) had moved through his bank accounts between 2001 and 2007.
The businessman's appeal was rejected by the Hong Kong Court of Appeal on Wednesday.
An appeal against his sentence has yet to be heard.
Judge Michael Lunn said he was satisfied Yeung had dealt with money in two accounts and the judge in the original trial had reasonable grounds to believe they were the "proceeds of an indictable offence".
However, Mr Justice Lunn gave Yeung leave to appeal at a higher court over some of the elements of his conviction.
Club offer considered
During the trial, the Hong Kong businessman was unable to show where almost HK$100m (£7.7m) in his bank accounts had come from.
He was found guilty of five counts of money laundering.
Yeung had claimed he accumulated hundreds of millions of dollars through stock trading, business ventures in mainland China, a hair salon and gambling.
Receivers Ernst & Young, which has been running Birmingham City's parent company since February, has said it is considering an offer to buy the club.
It is understood the firm has received seven bids and is negotiating with one of the groups involved.