Stabbing at Moseley Post Office in armed raid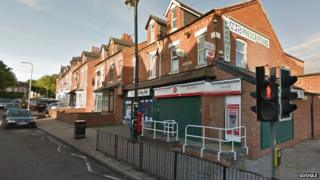 Masked raiders stormed a post office in an attempted armed robbery and stabbed a member of staff.
The men were said to be armed with machetes when they targeted the store on Church Road in Moseley at about 08:40 BST.
A man was stabbed a number of times in the leg, but his injuries are not thought to be life threatening.
Three men, aged between 18 and 25, are currently in custody and being questioned by officers.
'Bloodied leg'
One eyewitness said officers equipped with riot shields had barricaded doors to trap the men.
"There was an ambulance and a guy with a bloodied leg sat on the pavement," Leigh Wallis, who lives opposite the post office, said.
"I looked across and the police had barricaded the doors. Then after about 10 minutes, they started bringing these guys out in handcuffs, one by one."
A car has also been removed for forensic examination.
Mr Wallis said several £10 and £20 notes had been left in the roof guttering following the incident.
West Midlands Police has asked anyone with information to come forward.