New Street station escalator faults top 800 in two years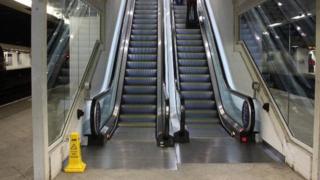 More than 800 separate faults were found with escalators at Birmingham New Street railway station in the past two years, it has been revealed.
Most were related to a component manufacturing fault, a Network Rail spokesperson said.
Commuter Lee Stanley, who obtained data under the Freedom of Information (FOI) Act, said he became frustrated as the escalators "always seemed broken".
The figures relate to the 22 concourse-to-platform escalators.
The station is undergoing a massive £650m refurbishment, but commuters have faced problems getting between the platforms and the station concourse.
Mr Stanley said: "I was getting frustrated that the escalators always seemed to be broken when I used the station. I tweeted Network Rail every time I came across one that wasn't working.
"I wasn't even going out of my way to find them. I thought if Network Rail aren't going to give me answers I can share with fellow passengers I would try and get them via FOI."
"It's pretty shocking that these escalators were brand new in 2013 and haven't even lasted two years."
Steve Lewis, New Street station manager, said because there are 22 escalators there would always be a high number of faults reported.
"Coupled with a recognised manufacturing fault affecting the new escalators, this number has unfortunately increased even more.
"A programme to replace the faulty part on each of them is well under way, at no extra cost to the redevelopment, in time for the station's full unveiling in September," Mr Lewis said.