Bangs at Birmingham silent fireworks display 'upset children'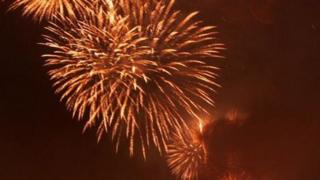 Parents who went to a silent fireworks display at Birmingham Botanical Gardens have claimed loud bangs frightened their children.
The event was advertised as: "A fireworks display with a little bit of a difference, with no bangers or loud noises ideal for the little ones."
But parents sent messages to the attraction's Twitter account claiming the noise left children distressed.
Birmingham Botanical Gardens has yet to reply to the BBC about the claims.
Updates on this story and more from Birmingham
Zoe Darlington tweeted the attraction, which is in Edgbaston: "Could have been great....but they weren't silent. Cue 200 crying toddlers.... What happened?"
Jess Kate Lloyd replied: "Yep most of them sounded like regular fireworks to me - had to take my baby inside where it was quieter!"
Hayley Panayi posted on the gardens' unofficial Facebook page: "Very disappointing that the advertised 'silent fireworks' weren't actually silent, in fact they were very loud! Lots of upset children and angry parents!"
Katie Harrison also wrote: "Very disappointed that the advertised "silent" fireworks were far from silent. My frightened 2 year old (who I never would have taken to a normal display) did not appreciate them."