Barclaycard scraps sponsorship of Birmingham Arena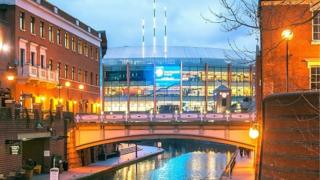 Barclaycard is to cease sponsorship of the former National Indoor Arena after pulling out of its contract early.
The announcement comes just 18 months after the Barclaycard Arena was unveiled following a £26m revamp.
The credit card company signed a 10-year deal to sponsor the Birmingham music and sports venue in 2012, but is exercising a break clause to end the contract.
Barclaycard said it was reviewing its entire sponsorship strategy.
The contract with the venue will now end in 2017.
The NEC Group, which owns the site, said it was looking for a new sponsor and name for the arena.
It is also for the first time searching for sponsors for the National Exhibition Centre (NEC) and International Convention Centre (ICC).
The venue became known as the Barclaycard Arena in November 2014 following a two-year refurbishment which included the unveiling of illuminated 'sky needles' on its roof.
A Barclaycard spokesperson said the arena had been a "great success" and it was "proud" to have produced entertainment and sporting events.
It added: "As part of a review of our sponsorship strategy across both Barclaycard and the broader Barclays Group, we have decided to move away from long-term naming rights for the Arena and explore other potential options with the NEC."
The NEC Group, which also includes the Genting Arena, was sold by Birmingham City Council last year for £307m to LDC, the private equity arm of Lloyds Banking Group.