Labour Party transgender councillor Anwen Muston 'feared reaction'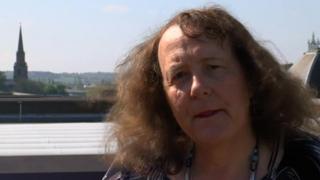 The Labour Party's first openly transgender councillor has spoken of her worries about how people would react.
Anwen Muston won the East Park ward seat in Wolverhampton at the local election - following her third campaign, previously running in Penn.
Her election came after serving in the army, where she was afraid of coming out.
But Ms Muston said all her "fears were unfounded".
"I knew at an early age I wanted to be a woman but I didn't know what was wrong with me," she said.
More Birmingham and Black Country stories
She served in the British Army for more than two decades where she was afraid to be open about her sexuality.
"I woke up one morning and was told Corporal such and such had been arrested for being gay and I never saw them again," she continued.
"It was horrifying and trying to cope with it was quite hard at times."
Eventually the councillor plucked the courage to go public.
"I don't think I pass very well as a woman. I certainly stand out being over six feet tall.
"I didn't know how people would react. But all the fears I had were completely unfounded.
"There are the odd bigots who choose to judge you. The Asian and black communities have faced prejudice for years - they still face it. It's no different."