Walsall Council 'to be run by a Labour-Lib-Dem coalition'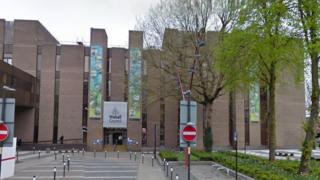 Walsall Council could to be run by a Labour and Liberal Democrat coalition after the two parties struck a deal following the local election results.
The council has no party in overall control since the elections on 5 May. Labour, which gained one seat, is the biggest party with 28 of the 60 seats.
Labour's Sean Coughlan said it shared aims with the two Lib Dem councillors such as protecting frontline services.
The council will vote on whether Mr Coughlan will lead it on 25 May,
The full council will vote on a notice of motion as to whether the Labour leader will replace current Walsall Council leader Michael Bird.
Mr Coughlan said if he became the new leader he would work with Lib Dem colleagues as part of a coalition.
"There is an understanding for quite a while that we are travelling in the same direction and want the same things - it is all about looking after our most vulnerable and putting people first," he said.
Mr Coughlan said when Labour held power for about 10 months from August 2014 it had saved the council about £1m by reducing the number of senior managers.
Ian Shires, Liberal Democrat leader, said: "We welcome the opportunity for the two left of centre parties to work with the people of Walsall."
The council was previously run by the Conservative party with support from three UKIP and two independent councillors. The Tories kept their 25-seat-tally in the elections but the current mayor is from Labour and has the casting vote.