Opening for final phase of Birmingham's tram route delayed again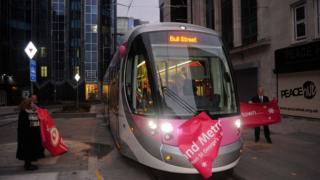 The launch of a new tram service to Birmingham New Street station has been delayed for a second time.
The last part of the £128m project to extend the Metro line along Corporation Street was due to open this weekend.
But final checks using test trams found minor abnormalities in track alignment, said transport provider Centro.
Work will take a few days and tram drivers will need to be trained on the new section, said Centro's Midland Metro programme director Phil Hewitt.
He said: "It is bitterly disappointing as everything else is in place and ready to go but, as we have said right from the start, safety is paramount."
The first tram travelled from Snow Hill station to Bull Street in December.
The last part of the line was expected to open in February but Centro announced technical issues had delayed it until May.
It is now hoped the final section of the first tram route through Birmingham for more than 60 years will be open by the Bank Holiday.
BBC Midlands Today transport correspondent Peter Plisner
The original plan was to open the Metro extension at the same time as the revamped New Street station last September.
The opening was then put back to the end of the year, but safety concerns over the Christmas shopping period meant another deadline was missed.
Now the issues with the track mean this weekend's grand opening is off too.
Once the latest issues have been resolved the tram drivers need to be trained on the new section of track.
That's expected to take around a week, which means that if all goes well, the Metro extension could be ready to carry its first passengers on the bank holiday weekend.