West Midlands Police officers 'feared they were terror targets'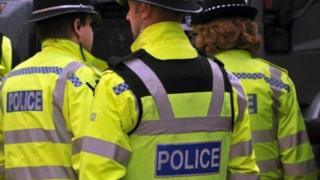 Police officers felt "very vulnerable" and feared they would be the victim of a terrorist kidnap plot - only to later find the threat stemmed from a hoax 999 call by one of their own colleagues, who has been jailed for seven years.
The call led to "unprecedented measures" being put in place by West Midlands Police, after PC Amar Hussain suggested an officer would be kidnapped by a radical Muslim with links to so-called Islamic State (IS).
Speaking anonymously to the BBC, one serving officer said colleagues - who were told not to wear uniforms to and from work - believed an attack was "highly likely".
It even led officers to report back to work to let the force know they had arrived home safely.
False terror kidnap claim PC jailed
"Some stations went all out to protect the officers and stopped single-crewing, but where we are based it's too busy to implement the same measures," she said.
"We were told not to wear our uniform - or any part of it - travelling in to work or home at the end of a shift.
"And we were advised to keep changing our route and be vigilant for cars that might be following us."
Hussain, 29, from Yardley in Birmingham, was found guilty of two counts of perverting the course of justice earlier this month.
'This was different'
Stafford Crown Court heard Hussain made the call to try to incriminate members of Dawat-E-Islami, a peaceful Muslim prayer group that he held a grudge against.
Jurors were told the "credible" call, on 8 December 2014, left the force with about six hours to put measures in place to protect officers from a possible kidnap situation.
Although threats are often made to the force, this one was taken seriously, the officer said.
"There's a lot of jobs I go to that I think, 'I don't like this' and think it's a set up of some sort like Lee Rigby or the Dale Cregan killings," she said.
"There are threats on a regular basis - maybe someone on the run who has said they will kill a police officer.
"We are just warned about it in briefing and that's it - it doesn't make the press.
"But this was different in the way that we were pretty much told it was going to happen.
"We all believed an attack was highly likely and felt very vulnerable off duty."
'Disgusted and embarrassed'
Perry Barr MP, Khalid Mahmood said the force was not to know the call was made by someone in a "responsible position."
"This is an issue that West Midlands Police would deal with seriously," he said.
"This was a criminal event... if an individual does this then he should be dealt with in the correct way."
Within the force, there is anger about Hussain's actions.
"We are all disgusted and embarrassed that someone like that was a police officer and worked amongst us," the officer said.
"Though his actions scared us it didn't stop us from going about our business and doing our job because we will always put the community first.
"Amar Hussain is not a copper, he's a fraud."