Bailiffs lock doctors out of Coombswood Surgery in Halesowen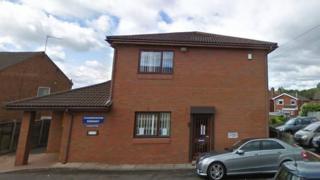 Doctors and patients found they could not get into their GP surgery after bailiffs changed the locks.
The Sheriffs Office said it executed a forfeiture of the lease at Coombswood Surgery in Halesowen on Tuesday.
A sign in the window said the closure was due to "non-payment of rent".
Dudley Clinical Commissioning Group said they were working with the practice to understand "why they were not made aware of this issue with the landlord in advance of the closure."
More on this story and updates from Birmingham & Black Country
Coombswood is one of three surgeries run by Stourside Medical Practice which rents the building from a private landlord.
Stourside practice manager Marianne Thompson said: "We were surprised to find a note on the surgery door.
"Patients have been redirected to the two surgeries in the group which remain open.
"We will continue to do this until the issues are resolved."
Mohammed Waqas, of Evergreen Pharmacist opposite on the Coombs Road surgery, said: "The staff turned up for work but could not get in as the locks had been changed.
"The service is being provided from Halesowen Health Centre which is a mile-and-a-half out of the way for the local community.
"It's a really essential service, especially for elderly people. It's a distance for them to travel with no bus route and there's a parking charge."
Dan King, director of membership and primary care for Dudley Clinical Commissioning Group (CCG), said: "All patients are being seen from one of the practices other sites in Halesowen."
He added: "We are disappointed that the patient experience has been affected in this way, as are the practice, but we are assured that they are working hard to maintain patient services from their other sites."