Aston Villa fan nets £1m over Eder's Euro 2016 winner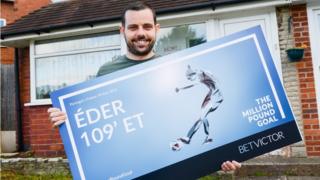 A man has netted £1m after placing a bet on Portugal striker Eder to score the first goal in the Euro 2016 final.
Kitchen fitter Daman Chick, 32, from Birmingham, had predicted a goal in the 84th minute, but Eder scored in the 109th minute as France lost 1-0.
BetVictor said as the closest bet he won the Million Pound Goal prize.
The Aston Villa fan only realised his good fortune when an appeal appeared in the Birmingham Mail urging the prize-winner to come forward.
It was a welcome piece of good fortune for Mr Chick whose beloved Villa had a woeful season, finishing bottom of the table after a campaign in which the club got through four managers - more than the number of Premier League wins they secured.
Read more news for Birmingham and the Black Country
Mr Chick said he was boarding a flight to Greece with his wife and two children and had "rushed" the prediction after making others.
He said: "I just sort of scrolled through the page, pressed the minute, flicked up and pressed the player and then I got on the plane.
"My motto with gambling is always expect the unexpected because it happens so often."
Eder, who now plays for French side Lille OSC, failed to find the net during a stint at Swansea last season and was an outsider bet to score in the final.
BetVictor had to start its #MissingMillionaire social media campaign, appealing for a 32-year-old Aston Villa fan from Birmingham to get in touch, after Mr Chick failed to claim his prize.
The bookmaker eventually tracked him down days after the final while he was still poolside.
Mr Chick said: "In all honesty, it was hard to speak through the surge of tears that came over me. I thought I'd just had one too many by the pool."