Protest at CPS over Kingsley Burrell's police detention death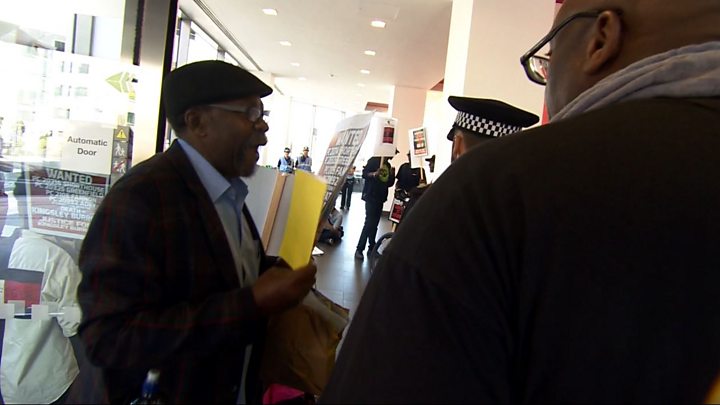 Protesters have occupied the lobby of Crown Prosecution Service offices over the death of a man detained under the Mental Health Act.
An inquest in May last year found "gross failures" contributed to the death of Kingsley Burrell, 29, who died in Birmingham in March 2011.
His family have said they were angry at the time the CPS has taken to make a decision.
The CPS said it was in contact with the family and still considering evidence.
Up to 100 people also attended a rally outside Birmingham Cathedral earlier.
Read more news for Birmingham and the Black Country
Mr Burrell, a student from Winson Green in Birmingham, died four days after being detained by police.
He had dialled 999 claiming his life was under threat, but was then sectioned and taken to a mental health unit before being transferred to hospital days later.
'Want answers'
The Independent Police Complaints Commission (IPCC) carried out an investigation after a complaint from the victim's family about the evidence of three West Midlands Police officers during the inquest.
In October last year, the watchdog referred the matter to the Crown Prosecution Service (CPS) "for them to consider if any criminal offences may have been committed".
In a statement ahead of the rally, the CPS said it would make a decision "in due course" and had last met Mr Burrell's relatives two days ago "to keep them updated".
A spokesman said: "Other parties in the case have also been kept informed.
"The CPS has been considering this matter since it was referred to us by the IPCC in October 2015 and are mindful of the impact this continues to have on the family."
About 30 people were in the lobby of the Birmingham offices for two hours.
Campaigner Desmond Jaddoo said they wanted answers from a senior member of the CPS.
He said later: "We have been offered a private meeting. But we want the meeting in front of all of us so there is transparency."
The protest dispersed when CPS area manager Karen Sawitzki agreed to take a letter raising 10 key points in Mr Burrell's case and pass it to the director of public prosecutions, Alison Saunders.