Birmingham street preacher guilty of abusing woman over 'tight jeans'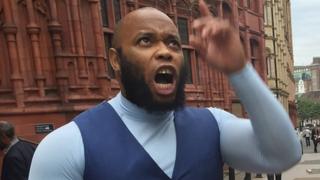 A street preacher who told a woman she would "burn in hell" for wearing tight jeans has been found guilty of religiously aggravated threatening behaviour.
Krissoni Henderson accused Noor Alneaimi of being a prostitute and a non-believer, Birmingham Magistrates' Court heard.
He also called police officers arresting him "disgusting atheists".
Mr Henderson, 31, will be sentenced on Tuesday.
He had denied using religiously aggravated threatening words or behaviour.
More on this and other stories from Birmingham and the Black Country
'Filthy disgusting beast'
Ms Alneaimi, 38, told the court she had heard the defendant shouting abuse at a passer-by on New Street, Birmingham, on 4 July before he turned to her and made a comment about her "tight" jeans.
"He directed the conversation to me and started saying you are a 'kafir' [an Islamic term for a non-believer]," she said.
"He said 'You shall burn in hell, look at your jeans they are so tight. You will burn in hell for wearing such clothes'."
Ms Alneaimi told the court she was "astounded and absolutely terrified" by his behaviour, leading to her filing a complaint with West Midlands Police.
Footage from cameras worn by officers visiting Mr Henderson's flat, on Brook Street in Birmingham, showed the defendant shouting at officers, including calling one a "filthy disgusting beast" and a "statue worshipper".
He also shouted "Allahu Akbar" before he was arrested, the court heard.
During his trial Mr Henderson said Ms Alneaimi may have "targeted" him and been trying to seduce him, saying she may have been attracted to his muscles.
Mr Henderson declined to confirm his religion, saying his beliefs are "to love people regardless of what they wear".