Cyclists rescue three from car at flooded ford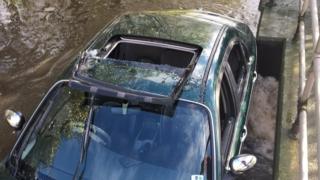 Two cyclists smashed their way into a flooded car to rescue three elderly passengers when it got stuck in a ford.
Two women and a man were stranded in the Rover 75 as water rapidly rose around them at Trescott Ford, near Wolverhampton.
West Midlands Fire Service were called but when they arrived two passing cyclists had already broken through the sunroof to free the soaked occupants.
Watch commander Dean Marandola praised the pair for their bravery.
"We got the call to say three elderly people were stuck in the ford but at that time, the water was ankle deep," he said.
"By the time we arrived two cyclists had to smash through the sunroof to get them out because the water had got so high.
"The force of the water shoved the car up against the concrete walkover, where the flow of water goes, so it rose very quickly."
He said the shaken occupants were checked over by paramedics at the scene.
"We would like to commend the bravery of the cyclists, " said Mr Marandola, based at Tettenhall Fire Station.
He urged drivers not to go through the ford when it was at an unsafe level.
"We are called out to rescue people 10-15 times a year from there."