Boy seriously hurt in City of Birmingham School stabbing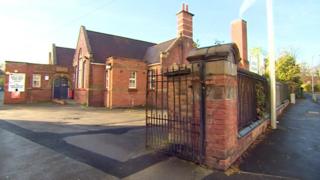 A 15-year-old boy has serious injuries after being stabbed at school.
Police said the teenager was attacked at City of Birmingham School in Erdington just after 13:30 GMT on Thursday.
The pupil is in a serious but stable condition. Police said he was outside the school when he saw two people who chased him back inside.
Two boys aged 16 and a 17-year-old have been arrested on suspicion of attempted murder.
It was not known if they were pupils at the school, police said.
More updates on this and other stories in Birmingham and the Black Country
City of Birmingham School is the main pupil referral unit for Birmingham, taking in children with a range of behavioural issues.
It has 10 sites across the city, and the stabbing occurred at its school in Feltham Road.
Supt Mark Payne has said it was a "fast-paced investigation".
He said: "We are working closely with the school and if anyone has any information then I am urging them to speak to police or to call us as a matter of urgency."
Colin Diamond, executive director for education at the city council, thanked staff at the school for their "heroism" and said the school was supporting the pupil and his family.
He said: "We are helping the police with their investigations and we will be examining the school's policies and procedures alongside this, though I would like to make it clear that other pupils at the school were not at any risk at any point.
"We are supporting the school through this difficult time and it will reopen on Monday."