HMP Birmingham riot: Officers describe conditions at jail
Rioting prisoners took over four wings over of HMP Birmingham last week, setting fire to stairwells, destroying paper records and causing £2m in damage. It was the latest high-profile disturbance to break out in a jail, prompting Justice Secretary Liz Truss to warn that "long-standing" problems in the nation's prisons could take months to solve.
Amid claims that inmates in Birmingham were pushed to riot by poor conditions and a lack of staff, a former officer at the jail has spoken about conditions there. The officer, who has now left the service, spoke to the BBC on condition of anonymity.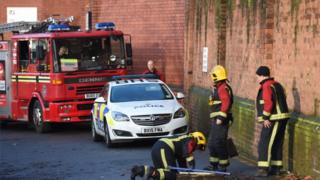 "I started work at the prison more than 10 years ago. It was my first prison job and I was a fresh recruit.
I still don't know what attracted me to it, but it was a good decision. It was only in my final few years that I felt there was a decline.
I felt safe at first. During the first few years I could count the amount of times I felt fearful for my own safety on one hand. Eventually it got to the point where I was fearful nearly every day.
There wasn't a specific incident which led to this. At first, if you were dealing with an incident you would have colleagues around you.
But gradually I realised they were taking more time to turn up, mainly because they may be coming in from other areas where there would be three to four officers for 100-odd prisoners.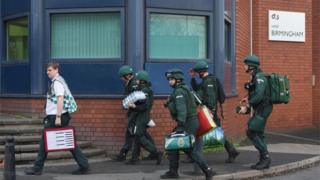 It's a psychological process - you become more wary of challenging prisoners so prisoners become more confident and less respectful.
I am not sure how many officers worked there when I first started, but to say it was cut by 50% by the time I left is realistic.
G4S officially took over the prison in 2011 (the prison was the first in the UK to be transferred from the public to private sector).
They didn't radically reduce staff, but staff began to lose motivation and pride.
Young prisoners would come in and see a G4S uniform and it got less respect than a prison officer's uniform. They would equate us to security guards, they would say 'you are not a real screw'.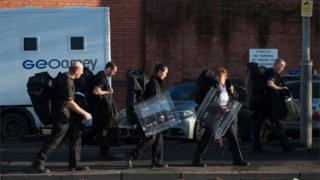 There began to be a reduction in staff visibility.
For the prisoners, there was a lack of opportunity to build a rapport with staff so you could have that mutual respect and a level of trust.
I felt like we regressed, like we went back to being "Victorian turnkeys".
Another consequence of having less staff is that you get moved around all the time, firefighting. I am sure that is happening all over the country. I felt deskilled and demotivated.
When I was recruited they wanted good communicators who could be compassionate and build a rapport. Over the years that has been sacrificed.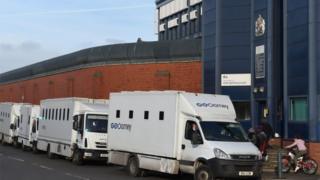 If you have a rapport you don't end up with six people on the netting (the safety netting between floors - which is what happened at HMP Birmingham). That is certainly going to bring the regime to a halt.
It is sad for the prisoners too - there is no stability and the continuity they need is not there.
I think this disturbance could have happened at any time in the last 18 months. It is probably down to the staff that it did not happen earlier.
I watched Liz Truss's speech to the House of Parliament. Recruiting 2,500 more staff is not enough. Even if you doubled that amount it does not make up for what the prison service is losing in experience.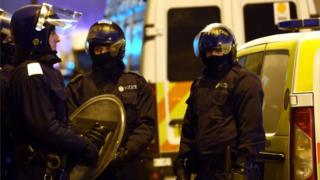 This is the perfect opportunity to make the changes needed. It has to be seized.
One bit of light at the end of the tunnel is that Liz Truss said she was going to give staff more of a platform to get their views across. If that can happen, things can improve.
In the past you had staff with 25 years plus on the clock. When I joined it was a career for life, I didn't even think about changing professions.
Now the youngsters are paid peanuts and you cannot replace the experience which has been lost. I think it could take the best part of a decade to get the service back on an even keel."
'The whole (prison) estate is simmering'
A current HMP Birmingham prison officer with more than 20 years' experience feels the riot could have happened anywhere. Again, they spoke on the condition of anonymity
This could have happened anywhere - it's unfortunate it happened with us. It is not a G4S thing, or a public/private sector thing. It is a system wide thing.
It is because of the cuts. The government needs to look at the cuts it is making to all public services to be fair, but we feel like we are the forgotten public service.
Every prison, whether private or public sector, is in the same boat. Prisons tend to have high staff sickness which doesn't help.
I think the public sector prisons are worse off than we are where staffing is concerned.
It definitely has an effect on the prisoners. There's not enough staff to talk to if they have a problem or not.
The prisoners did react (when G4S took over) - they might see us as security guards, not prison officers. But the staff see themselves as prison officers. The uniform does not make a difference.
Things have become a little harder. But we are dealing with a different type of prisoner these days and nationally the government needs to realise that.
With this type of job you are always fearful for your safety - it's part and parcel of this type of job. But it is down to how you deal with it. You have to use your skills more.
I build up rapport with prisoners. If you show them respect then they will be able to respect you.
Recruiting 2,500 is not enough. By the time they are trained you might have lost 2,500 through natural wastage. We need a minimum of 8,000 throughout the whole prison estate, all trained properly.
Unfortunately things like this happen and this time it was Birmingham's time. And I don't think this incident will be the last. If they carry on with the cuts it will not be the last. The whole estate is simmering.
Twenty years ago you would have an older type of prisoner. Now, prisoners tend to be younger and they are a lot wilder.
There's trouble with phones and drones but all jails are having trouble with that. Prisoners will always find ways of doing things, it is the nature of it.
The prison service both public and private has to change. This could turn out to be a positive thing. But Birmingham will bounce back, that is what we do."