Nova Welsh death: Murder suspect 'racially abused by police'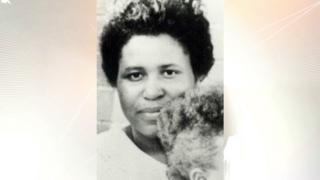 A man accused of killing the mother of his children 35 years ago claims he was racially abused during a police interrogation after her body was found.
Nova Welsh was found dead in a cupboard at her home in Ladywood, Birmingham, on 18 August, 1981.
Her ex-partner Osmond Bell, 60, denies murder.
Birmingham Crown Court heard he sent a letter shortly after the 24-year-old vanished to shift suspicion on to another man.
Mr Bell denied writing the letter but claimed to have inspected it during questioning.
Read more news for Birmingham and the Black Country
A forensic examination in 2014 of the lick-seal of the envelope containing the note found an "incomplete" DNA profile matching Mr Bell's, the trial has been told.
The defendant told the court a "maverick" team of officers left him alone with the anonymous letter during four days of questioning in 1981.
'Abuse an understatement'
He said: "They left the room and, on the way out, one of the officers left the exhibit... on the table with me in the room.
"I remember thinking at the time perhaps I am being observed and they only came back in after I took the letter up and had a look at it.
"I read it and left it on the table."
Mr Bell, of Regent Road, alleged he was branded a racist, struck around the head and had a chair kicked from under him during an interrogation.
"We have to try and remember this was the 1980s. Race relations aren't good. To say I was racially abused is an understatement," he told jurors.
Prosecutors say Mr Bell murdered Ms Welsh at her home in Lighthorne Avenue in the early hours of July 27, 1981.
The court learned her body had been found from news reports and felt "numb" when it was confirmed to be hers.
"We had two wonderful children and, although we had our differences towards the end, you do have feelings for the mother of your children," he said.
The trial continues.