Birmingham cannabis factory smoking from roof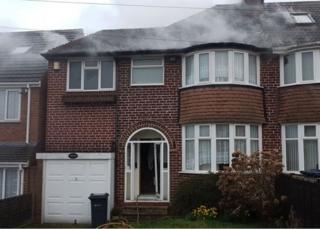 A suburban house was revealed as a drugs factory by massive white cannabis clouds billowing from its roof.
Dopey growers had overloaded the electrics at the house in the Handsworth Wood area of Birmingham, leaving the property looking like a set from a Cheech and Chong movie.
Fire crews dealt with the smouldering semi in Hamstead Hall Avenue at 06:50 GMT on Sunday.
They found a massively overloaded fuse box and a haul of marijuana.
A photo on the Handsworth community fire station's Twitter account showed a mass of wires rigged up in the three-bedroom home.
In a comment on the same Twitter page, the West Midlands Police Cannabis Disposal Team said: "Huge threat to public safety. Neighbours at risk of damage or death!"