Plans for £12m Wolverhampton building revealed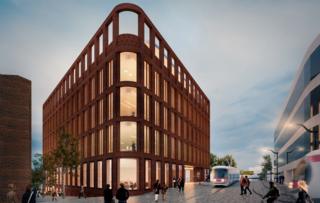 Plans for a £12m office building in Wolverhampton have been unveiled.
It was hoped i9 would become a national or regional headquarters for a major business and be completed by the end of next year, Wolverhampton council said.
The development, which will provide 4,645 sq m (50,000 sq ft) of office space, is part of the city's £132m Interchange project.
It is aiming to improve transport links and create jobs in the heart of the city centre.
Read more news for Birmingham and the Black Country
The Interchange project includes redeveloping the railway station, the Midland Metro extension, the completed i10 office and shops complex, redeveloping the former Steam Mill site and developing the old Sack Works factory.
The initiative includes the council, Network Rail, Canal & River Trust and Ion Development.
The council said work on i9 could start around the end of the year and the scheme would cost about £12m.
Plans have been revealed at international property show MIPIM in Cannes, France.
CGI images of i9 were revealed as the council announced Glenn Howells Architects as the winners of the city's Interchange design competition.