Ian Paterson: Patient told she had 'high risk' of cancer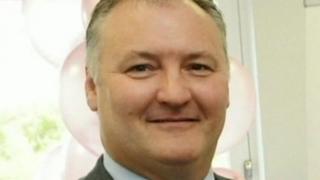 A woman had a lump in her breast removed after a surgeon told her it was "sinister" and she was at "high risk" of cancer, a court has heard.
Rachel Butler had surgery to remove ducts from her breast which prosecutors have said was unnecessary.
Nottingham Crown Court heard Ms Butler believed she would develop cancer without the operation.
Breast surgeon Ian Paterson denies 20 counts of wounding with intent against nine women and one man.
Mr Paterson, 59, worked at hospitals run by the Heart of England NHS Trust and Spire Healthcare. The charges relate to procedures he carried out between 1997 and 2011.
Ms Butler said her first consultation with Mr Paterson, of Castle Mill Lane, Ashley, Altrincham, was in 2005 when aged 30.
She later underwent the removal of a suspected cyst.
In 2011, she had problems in the same area with a painful lump appearing.
She said she remembered Mr Paterson saying, before a second removal operation, that the ducts would get lumps "which could be quite sinister" and undergoing a Hadfield procedure (to remove the ducts) was the best solution.
The court heard she was not offered alternatives and she thought she would get cancer if she did not have the procedure.
Test results had not really been discussed, she told jurors.
Mr Paterson's barrister, Nicholas Johnson QC, asked if she was mistaken about her recollection of what the surgeon had told her.
"All I was told was it [the lump] looked very sinister and it needed to come out," she said.
She was also asked if she was mistaken about having been told she was at "high risk" of cancer.
"He told me I was high risk," she said.
The court also heard more on the case of Frances Perks who had 27 biopsy cores taken from her healthy right breast.
Consultant breast cancer surgeon Ian Monypenny said such biopsies in Ms Perks' case would not have been the received medical best practice.
He said on the evidence he did not think Ms Perks had had breast cancer.
The case continues.