Ex-governor in 'Trojan Horse' row 'not extremist'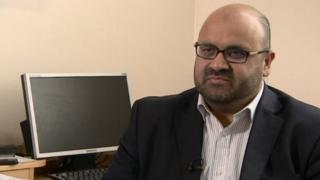 An ex-chairman of governors at a school embroiled in an alleged Trojan Horse Muslim takeover plot says he would not describe himself as extremist.
Tahir Alam has appealed at a tribunal hearing after the Department for Education barred him from being involved in the management of schools.
Mr Alam, who held the role at Park View in Birmingham, said he was a Muslim who believed in "democratic values".
He said he would not describe himself as radical.
Officials imposed a ban in September 2015 after concluding he had engaged in conduct aimed at undermining fundamental British values.
He was chairman of governors at Park View School in Alum Rock from 1997 to 2014 and chairman of a trust set up to manage the school.
'Media frenzy'
Martin Chamberlain QC, representing Education Secretary Justine Greening, has told how in 2013 Birmingham City Council received an anonymous letter which described a "strategy" to take over a number of state schools and run them on "strict Islamic principles".
Investigators found evidence of "co-ordinated, deliberate and sustained action, to introduce an intolerant and aggressive Islamic ethos" into a few Birmingham schools.
Mr Chamberlain said Mr Alam, plus Park View School and the managing trust, were "at the centre" of what happened.
Mr Alam said he held "generally" mainstream political views.
He stated: "I think that the inspections took place within a certain atmosphere which was to do with the Trojan Horse letter and the responses to that letter, which included a media frenzy, if you like.
"My view is that those investigations took place with a certain context, not with a vacuum."
Mr Chamberlain said inspectors had reported school staff being intimidated and suggested there had been a "climate of fear".
But Mr Alam told the London tribunal he "never received any complaint along those lines" and he had not intimidated or bullied anyone.
The hearing continues.