Westminster attack: Terror police search Birmingham home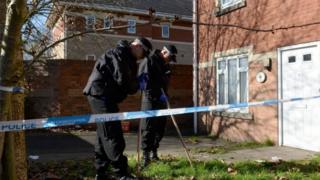 Counter-terrorism officers have been searching a house where friends of Westminster attacker Khalid Masood lived in Birmingham.
The maisonette in Bredon Croft, Hockley, is just yards from where Masood had recently lived.
Neighbours said police had been combing the area since Saturday.
Masood, who killed five people in Wednesday's attack, lived in nearby Quayside until the end of 2016.
A family, who live next to the house being searched, said Masood used to come wearing Islamic dress and take their neighbours' children to mosque.
One girl said she had spoken with the 52-year old, adding he "seemed kind, normal".
A neighbour said a couple and four children lived at the house being searched, describing them as a "nice family".
On Sunday, officers were removing bags of evidence.
A 58-year old arrested in Birmingham remains in custody after a hunt for accomplices saw 11 people held after raids across the country.