Slavery arrests lead to recycling firm restrictions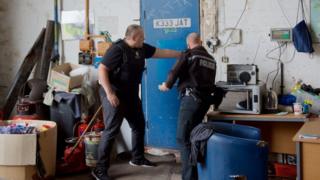 Two men arrested on suspicion of slavery offences at two recycling plants must share employee details with police and not pay staff in cash.
It follows 11 men, some malnourished and one hurt, being found at two sites in the Black Country in September.
The Slavery and Trafficking Risk orders were granted by a judge at Birmingham Magistrates' Court on Tuesday.
They place conditions on how the men, aged 47 and 26, who remain on police bail, run their business, police said.
More updates on this and other stories in Birmingham and the Black Country
The pair were arrested along with a 52-year-old man and 50-year-old woman during the raid by West Midlands Police at CAP Recycling, in Elwell Street, West Bromwich, and its sister firm, Black Country Recycling, in Union Road, Oldbury.
Six of the men were found at the businesses, three were located at a flat in Market Place, Great Barr, and a further two found in a van outside one suspect's address in West Bromwich.
One man had an injured shoulder, others also showed signs of alcohol dependency, the force said at the time.
The orders also mean the men must pay staff via bank accounts and prohibit them from providing any kind of accommodation or transport for workers.