Solihull exhibit marks Range Rover's 50th birthday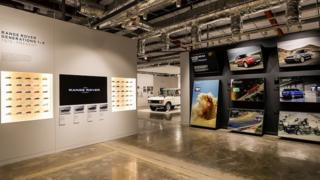 The 50th anniversary of the Range Rover is being marked by the opening of an exhibition tracing its history.
Jaguar Land Rover (JLR) said the Range Rover Story showcases the engineering story behind the car built at its Solihull plant in the West Midlands.
It looks at the first secret 'Velar' prototype made in 1967 to the model's latest revamp launched last month.
Roger Crathorne, a worker at the firm for 50 years, said the original aim was "never to build a luxury vehicle".
For more on this story and other West Midlands news
Mr Crathorne, who started his career at the firm as a technical assistant in 1967, said: "Over the 50 years since, the Range Rover has come a long way.
"We wanted to develop a more comfortable on-road Land Rover that would combine the comfort of the Rover with the Land Rover 4x4 capability to support a growing leisure market."
Mr Crathorne, who has become known as Mr Land Rover due to his knowledge of the subject, has helped create the interactive exhibit, which also celebrates British design.
Adult tickets to view the display at the Solihull plant cost £49. The exhibition is expected to be open for three years.
In March, JLR announced the Velar - the fourth Range Rover model - would be built exclusively in Solihull following a £1.5bn investment at the site.
The Velar, which has a £45,000 price tag, is expected to go on sale in the summer.