EDL viral photo woman denies minute's silence interruption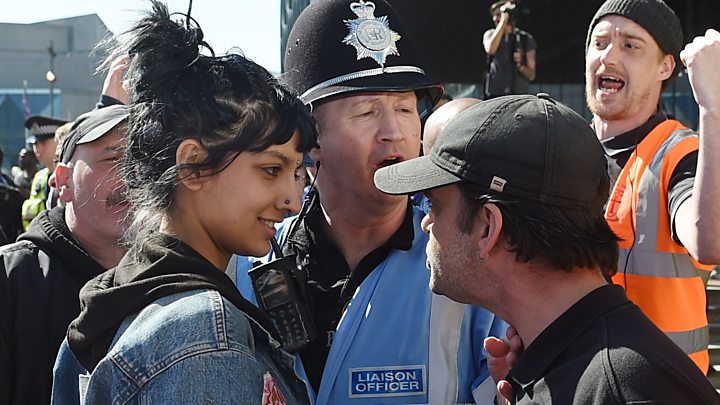 A woman pictured smiling at the leader of the English Defence League (EDL) has denied an allegation she interrupted a minute's silence for terror victims.
The image of Saffiyah Khan's confrontation with Ian Crossland, in Birmingham, went viral.
EDL supporters claimed on social media Ms Khan was in a group that interrupted a tribute for Stockholm attack victims.
She said it was "an attempt at a smear because the story is in my favour", adding she was defending another woman.
The EDL has been contacted for a response.
Tommy Robinson, EDL founder and former leader, said on Twitter he had confirmation Ms Khan was defending a woman in a navy hijab.
He described the photograph as embarrassing for the EDL.
"Why get angry with a woman, regardless of what she's saying to them?," he tweeted.
'Wasn't pleasant'
Ms Khan told the Victoria Derbyshire programme: "It'd like to make it very clear that people who know me.... would tell you and vouch for me that a minute's silence by either side - the EDL or UAF (Unite Against Fascism) - I would happily respect.
"But the fact of the matter is - and the video shows it - there wasn't a minute's silence while I was there."
For more on this and other Birmingham and Black Country stories
Ms Khan, from Birmingham, said she stepped forward when another woman shouted "Islamophobe" at EDL members in Centenary Square on Saturday.
She said the woman was "quite intimidated" and was being told she was "not British" and being questioned about Islam.
Ms Khan said despite her smile in the photograph "it wasn't a pleasant interaction".
"His aggression can be seen by the picture," she said.
Ms Khan later told the Press Association she had no idea the man involved was EDL leader Mr Crossland.
Ms Khan, whose father taught her to stand up to prejudice, said: "Sometimes it is more important to smile than to shout.
"But I did a fair bit of shouting too - I'm under no delusion about that - but it's a really powerful message."
Ms Khan said earlier in the confrontation she told him "racist scum get off our streets".