Pupils treated in chemical incident at Quinton school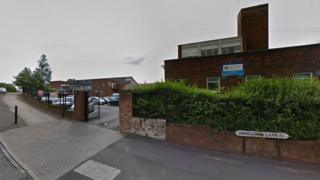 Six pupils and a teacher were treated for breathing difficulties after being exposed to the chemical bromine during a science lesson.
Ambulance crews were called to Four Dwellings Academy, in Birmingham, at about 10:15 BST on Wednesday.
The seven were taken to hospital as a precaution, West Midlands Ambulance Service said.
The service added the chemical was "isolated" and there was "no risk to anyone else".
See more stories from across Birmingham and the Black Country here
School spokesman Mike Barnett said a year 10 pupil had "inadvertently and mistakenly" opened a bottle of bromine water during a science lesson at the school in Dwellings Lane, Quinton.
At the time of the incident there were 23 children in the class.
"The laboratory was immediately evacuated and emergency services were called to the site," he said.
"The safety and welfare of our students and staff is our number one concern at all times."
The pupils were taken to Birmingham Children's Hospital and the teacher to Queen Elizabeth Hospital.