'Self-service' plans for West Midlands crime victims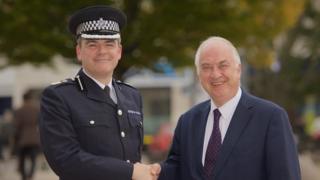 Victims of crime will be asked to make their own online reports under "self-service" plans by West Midlands Police.
Chief Constable Dave Thompson said he was exploring the online methods of crime reporting for less serious offences as part of efficiency savings.
Police Federation chairman Steve White said the proposals were "barmy".
The force said people will not be forced to use the service, but they will be an "extra option".
See more stories from across Birmingham and the Black Country here
Under the plans, members of the public would submit their own statements for less serious offences such as criminal damage, shoplifting and bilking - where people leave a shop or garage without paying, Mr Thompson said.
'Ridiculous'
West Midlands Police and Crime Commissioner David Jamieson said people would "always be able to speak to the police", but the plans would offer "greater choice".
"We need to be at the cutting edge that enables those who want to be able to report crimes online to do so," he said,
"Crucially, the public won't be forced to use these new tools when they are launched, but they will be an extra option that they can take advantage of should they wish."
Vulnerable victims would be directed to 999 or 101 services, he added.
Mr White, chairman of the Police Federation of England and Wales, said it was "another example of chief constables recognising that they do not have the resources to do the basics".
"Relying on victims of crime to do their own investigations is ridiculous," he added.