The Dandy illustrator Chas Grigg gets blue plaque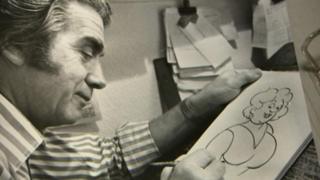 A blue plaque has been unveiled to commemorate cartoonist Charles "Chas" Grigg, who illustrated The Dandy and Beano for more than 20 years.
He died in 2013 at the age of 97, after suffering from Alzheimer's.
Grigg illustrated the adventures of Korky the Cat in the Dandy from the early 1960s and for a time took on illustrating the Desperate Dan stories.
The plaque has been put up at his old school, Rood End Primary, in Oldbury in the Black Country.
Steven Grigg said his father was largely unappreciated while he was alive and would have been "very proud" of the honour.
A self-taught artist, he never lost his love of drawing even in his 90s, his son said,.
"He couldn't remember what he did 10 minutes ago, but give him a pencil and say 'can you draw Korky the Cat' or Desperate Dan?' and he was there straight away, perfect," Steven Grigg said