Badly parked cars fined in police blitz in Bordesley Green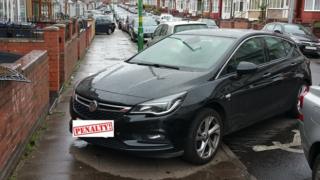 More than 30 badly parked cars were given tickets in an hour long blitz.
The vehicles, some of which were blocking pavements, a disabled bay and partially obstructing road junctions, were ticketed in Bordesley Green, Birmingham, on Saturday.
A total of 33 were logged and in some cases, cars were seized, by neighbourhood police officers out on patrol.
West Midlands Police said vehicles on eight roads were given tickets.
Tickets were issued in St Oswald's Road, Somerville Road, Dora Road, Mansel Road, St Benedict's Road, Floyer Road, Banks Road and Charles Road.