Ian Paterson: Breast surgeon 'committed grotesque, violent acts'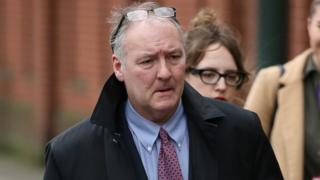 Breast surgeon Ian Paterson is a criminal who committed grotesque, violent acts, one of his victims said.
John Ingram was speaking at the sentencing of Paterson, found guilty of 17 counts of wounding with intent relating to ten victims.
The surgeon exaggerated or invented cancer risks and claimed payments for more expensive procedures in some cases, the earlier trial was told.
Mr Ingram underwent an unnecessary double mastectomy.
Latest updates on Ian Paterson's sentencing
Victim Carole Johnson described Paterson as a "monster".
In a victim impact statement read out at Nottingham Crown Court she described how she felt guilty for recommending Paterson to her daughter.
"I feel violated and vulnerable and have lost confidence," she said.
"The fact he denied it and put me on the witness stand made it even harder."
Victim Patricia Welch's statement explained she was self-conscious about scarring.
"I initially came to terms thinking my life had been saved.
"Now when I look in the mirror I see a victim of Mr Paterson who took away part of me as a woman."