Hagley Road crash: Lucky escape as car goes off flyover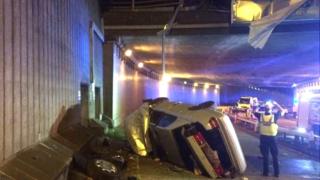 A man and two children had a "miraculous escape" when the car they were in plunged off a flyover.
Ambulance crews at the scene at the A456 Hagley Road West in Birmingham said it was "astonishing" those inside were not more seriously hurt.
The children, aged five and six, were taken to Birmingham Children's Hospital while the man went to Queen Elizabeth Hospital.
Their injuries are not thought to be life-threatening or life-changing.
Photos tweeted by West Midlands Ambulance Service show the saloon car mounted the pavement and smashed through the barrier on the island above the road in Quinton.
The accident happened at about 22:30 BST on Saturday.
The noise of the crash brought neighbours running to the scene.
Keith Jones said: "I got to the barrier and looked over, someone was trying to get a child out.
"People were sat in cars not moving and screaming, 'get the kids out'," one man said.
A nearby church, also disturbed by the crash, held prayers for the children and said they were thankful they were not more seriously hurt.