Man seriously injured in 'gang' incident in Highgate, Birmingham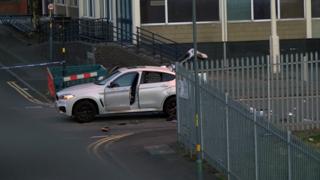 A man suffered life-threatening injuries and others were hurt in a suspected gang-related incident in Birmingham.
Three cars were damaged in the incident in Ravenhurst Street, Highgate, at about 18:45 BST on Sunday.
A man aged 25 was arrested on suspicion of wounding and is in custody.
"Police received multiple 999 calls reporting a collision and people being injured," a West Midlands Police spokesman said.
Police said the man who suffered life-threatening injuries sustained them "from a collision with one of the cars".
"A number of other people have been taken to hospital with injuries," the spokesman added.
For more on this and other Birmingham news
Sean Phillips, force incident manager, said: "We've got officers at the scene trying to establish what has happened. We've also got officers at the hospital assisting those who have been injured."
Ravenhurst Street and Moseley Street are closed while police examine the scene.
Anyone with information is urged to contact the force on 101.