Birmingham dad Mohammed Endris denies murdering his children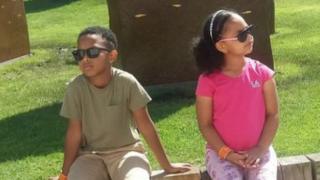 A father has denied murdering his two children at their home.
Mohammed Endris is accused of smothering his son Saros Endris, eight, and his daughter Leanor, six, who were found after a fire in Holland Road, Birmingham in October.
The 46-year-old also denied attempting to murder their mother, Penil Teklehaimanot.
He was remanded in custody at Birmingham Crown Court until his trial, which is expected on 6 November.
Mr Endris, who appeared in the dock with a head bandage, was charged with murder in January after being released from hospital following treatment for burns he suffered in a car fire.
His children are thought to have died from an obstruction in their airways.